On the day she moved into her apartment, Tina Hoang found little 4-month-old Masuka wandering around outside and immediately decided to adopt him. It didn't take her long to realize that he was full of personality and wasn't at all like his cat siblings …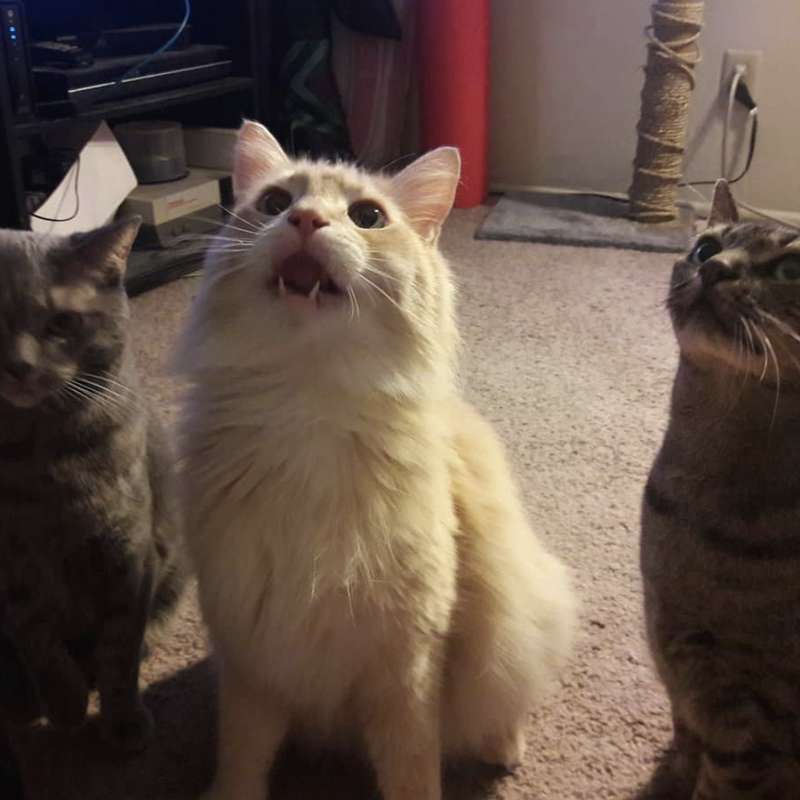 Credit:
Tina Hoang
… and now, at 7 years old, Masuka is definitely the weirdest, most entertaining cat his mom has ever met.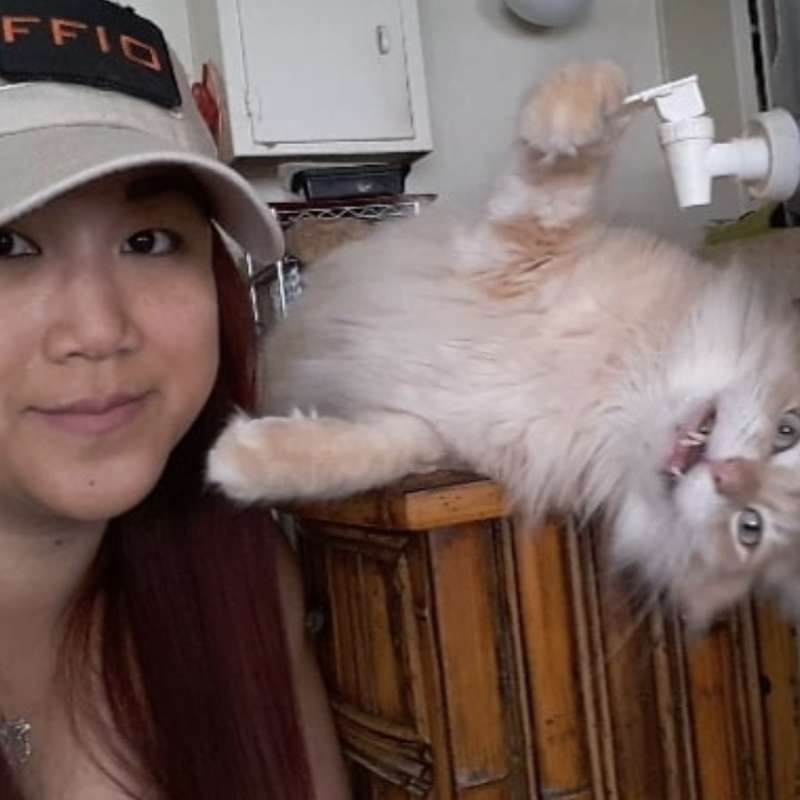 Credit:
Tina Hoang
From the very beginning, Masuka has been absolutely obsessed with water. He sits in the sink every chance he gets …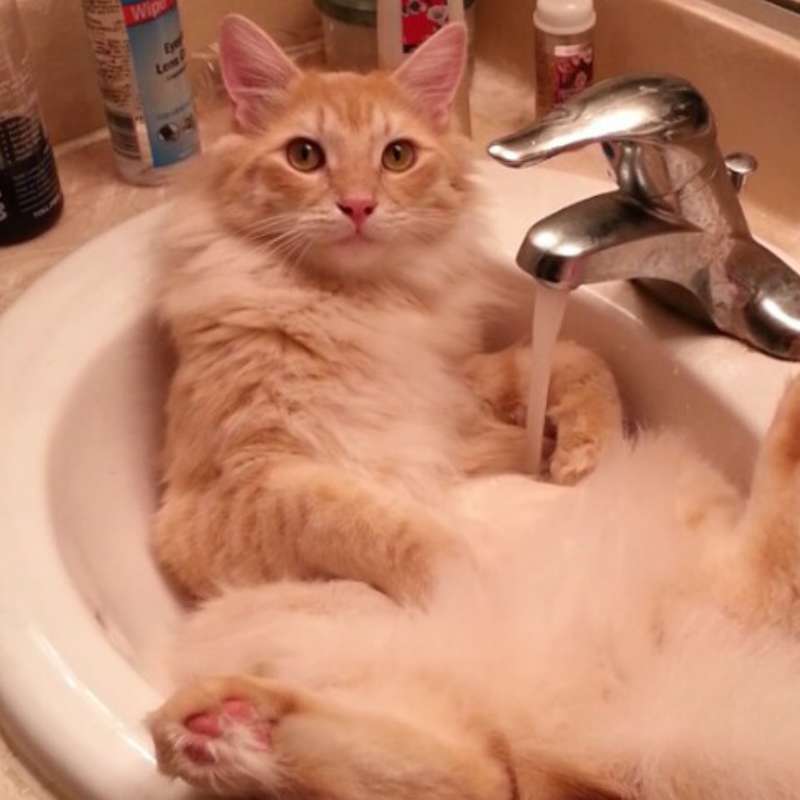 Credit:
Tina Hoang
… knows how to use watercoolers …

Credit:
Tina Hoang
… and never misses an opportunity to play in the shower.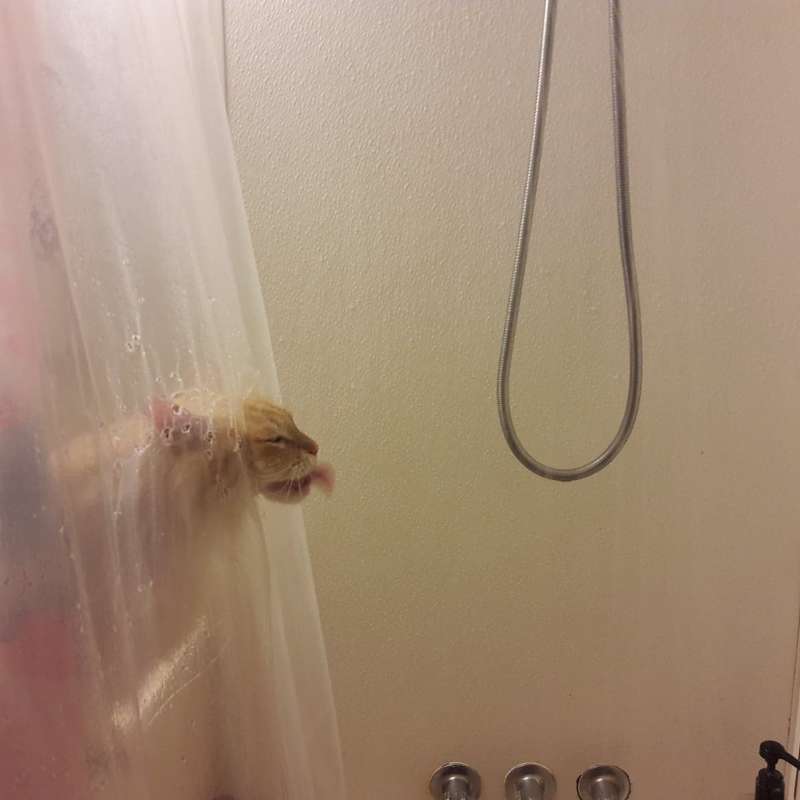 Credit:
Tina Hoang
"He loves running water," Hoang told The Dodo. "Every time I'm in the shower, as soon as he hears the water running, he comes running in."
Masuka is, of course, perfectly capable of opening up the shower curtain and poking his head into the shower, but more often than not, he prefers a different method — which involves tearing at the curtain with his claws until he's created a perfect, head-sized hole.

Credit:
Tina Hoang
Tearing holes into the shower curtain is now one of Masuka's favorite activities, and his mom has to buy a new curtain every few months just to keep up. One day, as she was observing her very weird cat poking his head through the shower curtain hole he created, she was suddenly struck with inspiration, and decided to turn the hole into something wonderfully creative.
So far, Hoang has turned her cat into a shark …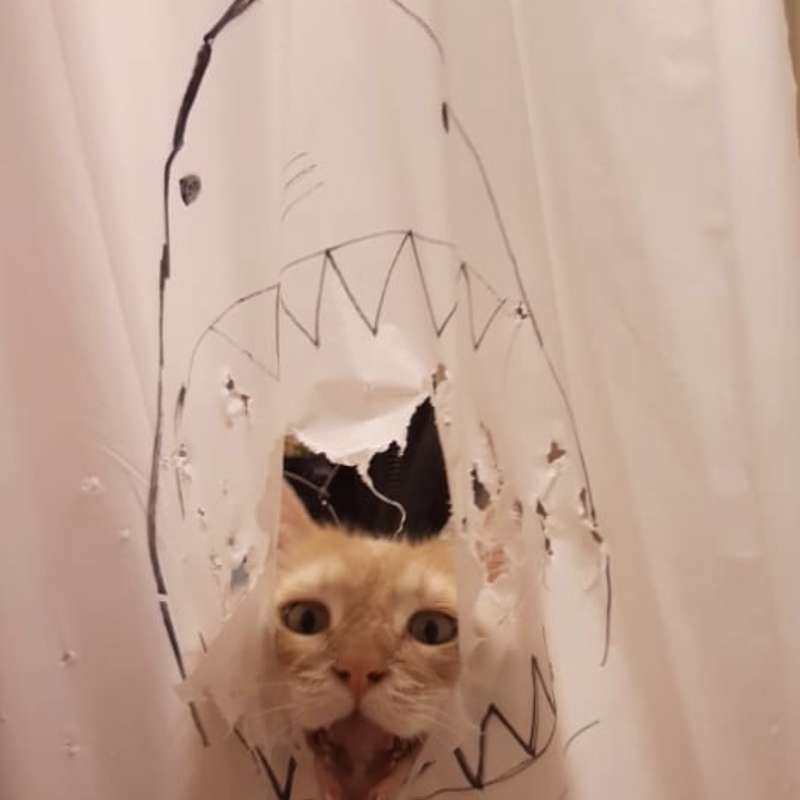 Credit:
Tina Hoang
… a dinosaur …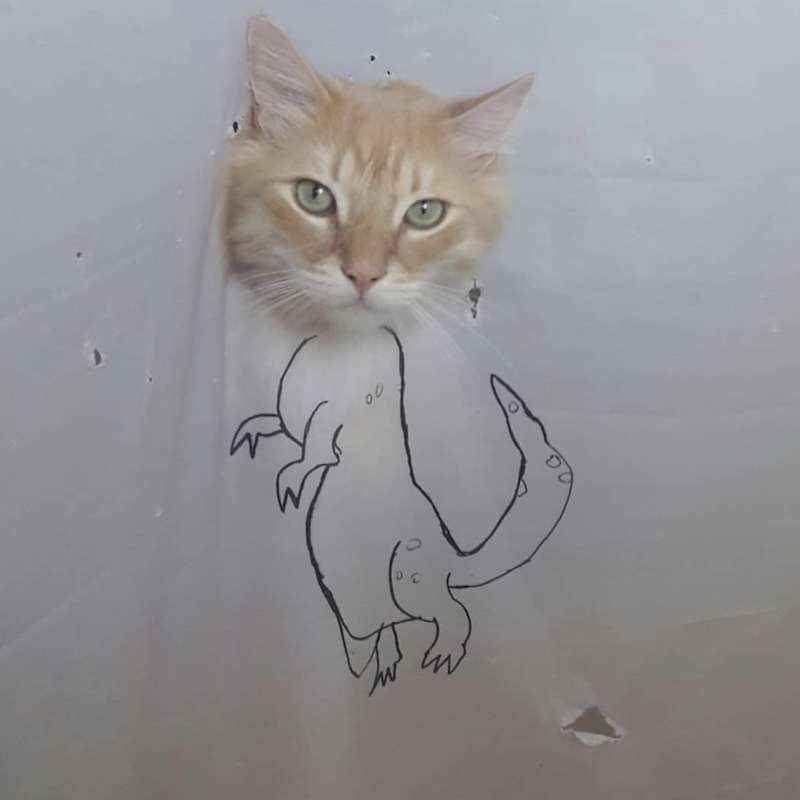 Credit:
Tina Hoang
… and a snarky PSA.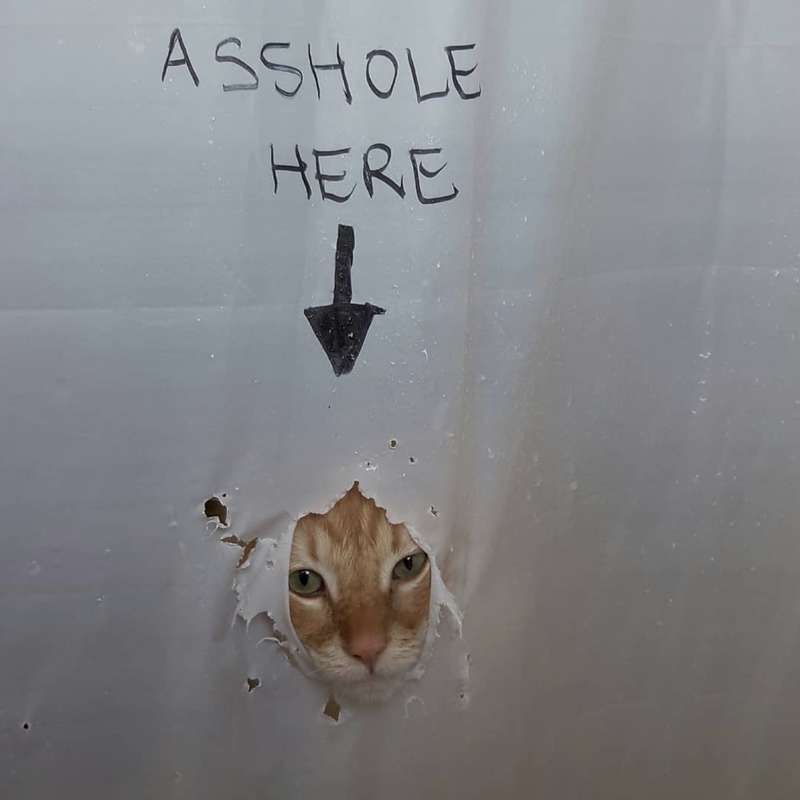 Credit:
Tina Hoang
"Every time I see him in the shower he just cracks me up," Hoang said. "I figured I might as well have some fun with it. Can't get mad at that face!"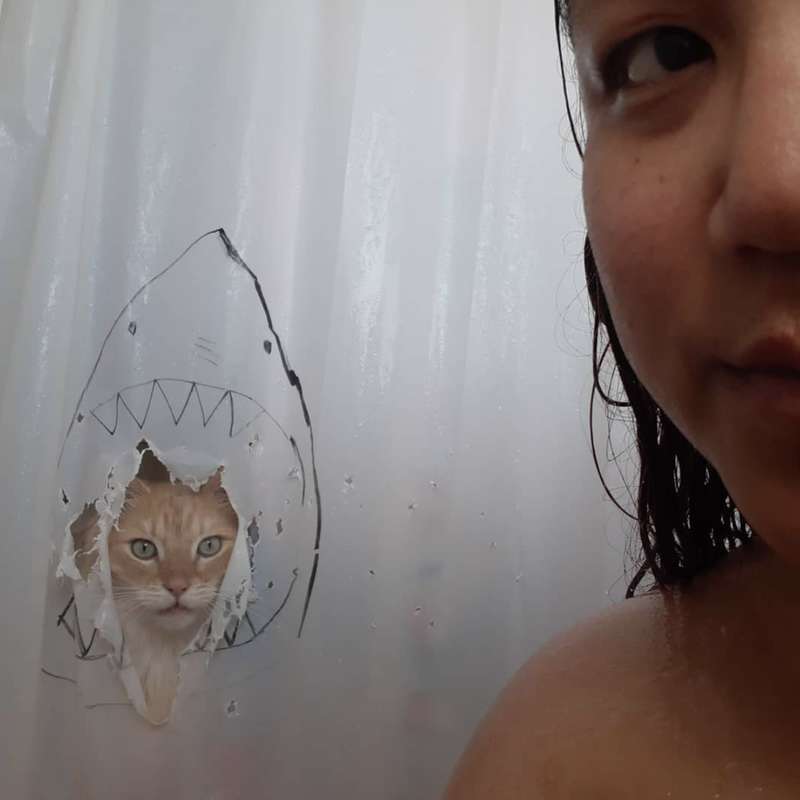 Credit:
Tina Hoang
Recently, Hoang bought a new, more durable shower curtain that may put an end to Masuka's destruction, but you never know. He still might find a way.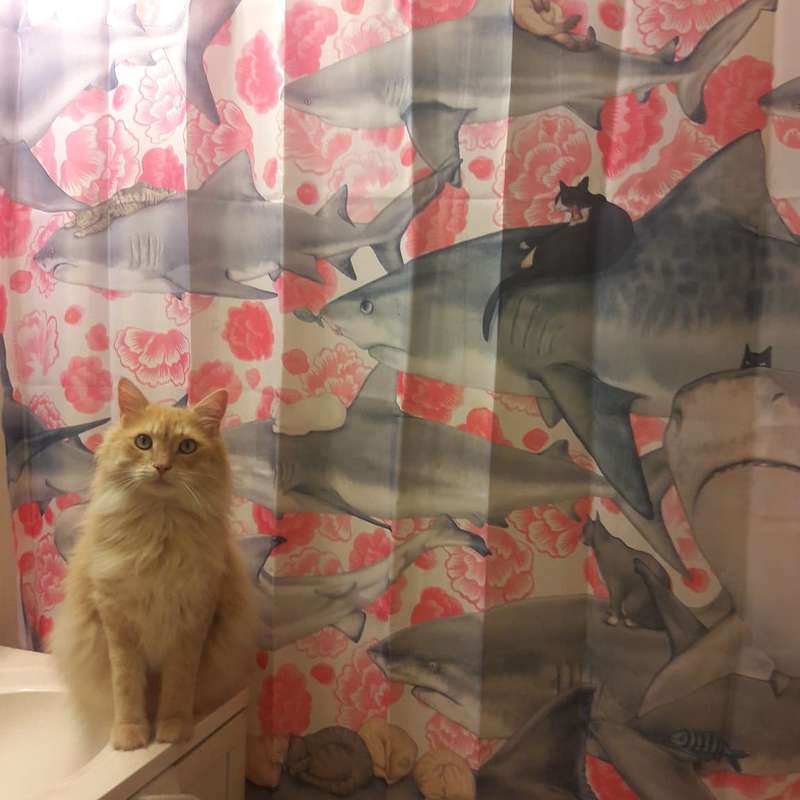 Credit:
Tina Hoang
Masuka's quest for water sometimes gets him into trouble, but his mom doesn't mind. He always knows how to bring a smile to anyone's face, and his mom wouldn't change him for the world.
Read more: thedodo.com