In This Issue
● Doggy Diarrhea
● Genetic Disorders
● Cleft Lip Boy & Pup
● Why Pups Need Their Moms
● Be Your Dog's Health Advocate
● Essential Oils
Recent Food Recalls
9/03/20 – Family Pet, Heartland Farms, Paws Happy Life
8/24/20 – Nature's Menu With Chicken & Quail
7/13/20 – Benyfit Natural Raw Dog Food
6/12/20 – Carnivora Fresh Frozen Patties
3/23/20 – IcelandicPlus Fish Treats
HEALTH ALERT #1
7 Common Causes And Cures For Doggy Diarrhea
Doggy diarrhea is not a disease in and of itself, but rather a symptom of a larger problem. While the cause is often harmless, keep in mind that diarrhea can also be a symptom of several serious illnesses.
If your dog's diarrhea is extreme or does not resolve with home remedies, see your vet promptly.
Learn the 7 most common factors that account for your dog's loose stools and how to treat each one.
A Tip From +THE HEALTHY HOUND
Does your vacuum smell like dog? After taking it apart for a thorough cleaning, stash dryer sheets or orange peels in the filter cavity.
HAPPY, HEALTHY MUST HAVES
Is Your Dog's Nose Dry & Crusty? Here's How To Help.
Nasal hyperkeratosis is a condition that causes extreme dryness and excessive overgrowth of the protein keratin on a dog's nose. While it is not dangerous, it can certainly be uncomfortable for your pup.
Most dogs experience some level of nasal dryness as they age and during the colder months. It is also more common in specific breeds.
Learn more about nasal hyperkeratosis and how Nature's Butter Nose Balm can help.
QUIZ OF THE WEEK
Which dog breed is most likely to suffer from Degenerative Myelopathy?
Dachshund
German Shepherd
Boston Terrier
Not sure? Read on to find the answer!
HEALTH ALERT #2
The Most Common Genetic Dog Diseases & Which Breeds Are At Risk
Many of the most common health problems dogs face are genetic, meaning certain breeds are at higher risk. Before bringing home a new dog, it is important to learn which diseases they may face.
Responsible breeders of at-risk dogs can help by performing genetic testing and excluding affected dogs from their breeding stock. However, it is ultimately up to the owner to prepare for a possible health crisis.
These are the most common inherited diseases veterinarians diagnose in dogs and which breeds are most likely to be affected.
IN THE NEWS
Boy Adopts Shelter Dog With Same Birth Defect
2-year-old Bentley Boyers was born with a cleft lip. After two surgeries, his scar is barely visible – but it is a perfect match for the similar one on his beloved new puppy.
The black and white mixed breed from Michigan's Jackson County Animal Shelter was born with the same birth defect eight weeks ago. (Check out the rescue devoted to saving cleft lip and cleft palate puppies.)
The bond between this special pair was instant, and they are looking forward to growing up together and inspiring one another for years to come!
A Tip From +THE HEALTHY HOUND
Avoid giving your dog cherry, plum, peach, and nectarine pits. Not only are they choking hazards, they release the toxin cyanide when ingested.
BEHAVIOR & TRAINING
The Consequences Of Taking A Puppy From Its Mother Too Soon
Animal professionals have long recommended that puppies remain with their mothers for eight weeks. Recently, researchers in the UK confirmed the importance of this essential time frame with a three year 'Generation Pup' study of dog health, behavior, and welfare.
Among their findings: puppies taken from their mother before eight weeks of age are more likely to exhibit problematic behaviors as adults.
Learn more about this landmark study and how a dog's first eight weeks can impact their entire lives.
VET CORNER
How To Be Your Dog's Advocate When She's Facing A Serious Illness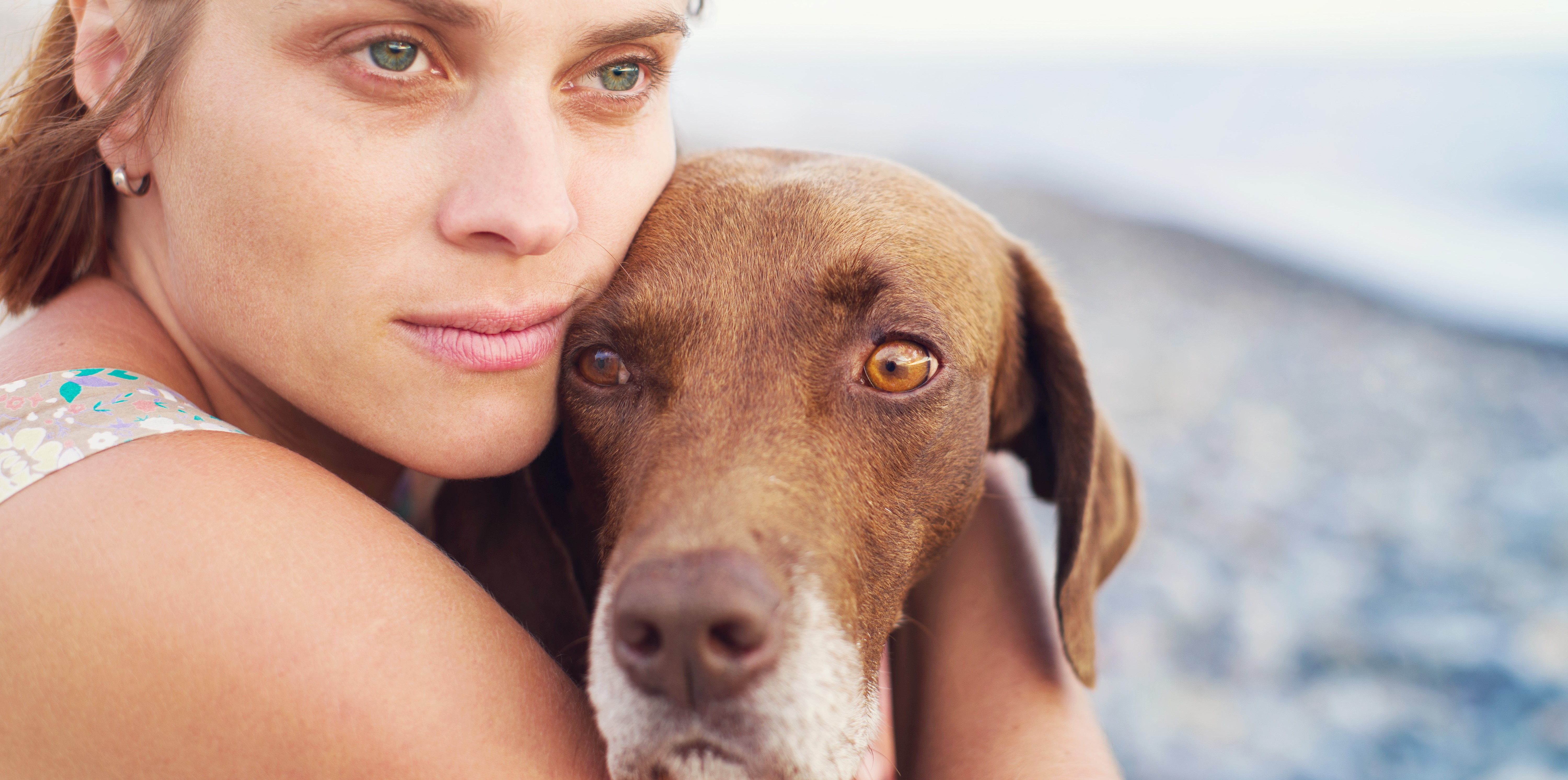 Learning that your dog has a serious health condition is devastating, and it is perfectly normal for emotions to cloud your mind. However, in times like these, your dog needs you to be her advocate and find out everything you can about her treatment options.
Once you have processed the initial shock and grief, these tips will help you make the best medical decisions on behalf of your pooch.
READER QUESTION
Essential Oils For Dogs: What You Need To Know
Jo-Anna contacted The Healthy Hound with a question about the safety of essential oils for dogs.
Essential oils are highly concentrated natural plant oils extracted from leaves, roots, flowers, bark, and stems. While most often used topically or in aromatherapy, some people do allow their dogs to ingest certain oils.
Before treating your dog with essential oils in any way, we recommend doing your own research and consulting with a holistic vet. If you are not 100% sure that an essential oil is safe for your pet, it's best to err on the side of caution and avoid it.
THE 10 BEST ESSENTIAL OILS FOR YOUR DOG
Do you have a question or topic you'd like The Healthy Hound to address in an upcoming newsletter? Click here to let us know!
Quiz Answer:
2. German Shepherd. Degenerative Myelopathy is a neurological condition most often seen in middle-aged and senior German Shepherds.
Sharing is Caring!
The Healthy Hound Newsletter is currently invitation only. Send the following link to a friend to invite them to subscribe!
iheartdogs.co/TheHealthyHoundInvite
The post The Healthy Hound Newsletter #47 appeared first on iHeartDogs.com.
Read more: iheartdogs.com